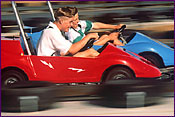 Fiddlesticks is proud to offer two value packages, each including a combination of any five rides and attractions (driving range not included). Prices for individual rides and attractions are also listed below. Prices are subject to change without notice.

Click here to check out our special events and discounts!

Value Packages
Value Pack #1: $16.00 for guests 60" and taller
Value Pack #2: $12.00 for guests 30" to 59" tall
Family Special: 3 attractions and 1 round of miniature golf does not include driving range. Minimum 4 people required $10.00 per person.
Unlimited Packages: One hour unlimited rides - $16 / Two hours unlimited rides - $19
Add Laser Tag to either package for an additional $4.00 per person per game.

Batting Cages
One token (15 pitches): $1.00
Eight tokens (120 pitches): $5.00

Bumper Boats
Driver: $4.00
Passenger: $1.50

Go-Karts
Driver: $5.00
Passenger: $2.25

Go-Kart Driver's License
Drivers 56"-60" tall can qualify to drive the go-karts if they pass our driver's test. Call in advance to schedule your test, and we'll include two go-kart rides with your new license.
Driver Test: $10.00

Kiddie Land Rides
Air Bounce Jump Castle: $2.00
Flying Dumbo Elephants: $2.50
Himalaya Coaster: $3.00
Miner Mike Roller Coaster: $2.50
Rookie Go-Karts: $3.75
Soft Play: Free
Swings: $2.00

Laser Tag
Non-Member: $6.00

Mini-Golf
Adult: $6.00
6-12 years: $5.00
5 years and younger play free with paying adult
Seniors (55+): $4.00

Video Arcade Games
Tokens: $0.25
Most games require two or three tokens
Token Special - Save $5.00 when you purchase 100 tokens for $20.00.